As a designer, I often have to take screenshots of apps, often for reference or as a starting point. When working on iOS apps, taking screenshots is very simple: on your iPhone/iPod touch/iPad, press the power and home buttons at the same time and the screenshot is added to your Saved Photos.
With Android phones, it's a different story. There are Android apps that let you take screenshots if you root your phone, but I didn't want to do that. So I had to download and install the Android SDK and Java JDK, set my phone to use USB Debugging, connect my phone to my Mac, then use an app to take screenshots of the screen. And while this has worked in the past, I wasn't able to get it working at all today.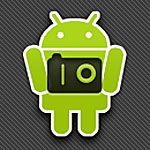 Luckily, I found an app that actually works: No Root Screenshot It. While you still have to connect it to your Mac/PC to get started, once you do it's simple to take screenshots, which you can then save or share (email, bluetooth, or other various options).
I found the best method was to save the screenshot to my Dropbox, which is then nearly-instantly synced with my Mac. In that respect, it's easier than iOS for getting screenshots from my phone to my Mac — no cables needed!